Greeting
「A cup of green tea makes your heart fulfill, relax, and warm. We wish to pass this Japanese rich culture down from generation to generation.」
We thank you very much for your loyal patronage. This year is the 150th year anniversary of establishment of Kanei Hitokoto Seicha. We deeply appreciate this is a result of many people's support and a gift of the kindness.
For 150 years since the first founder, Saizaburo Hitokoto established the business in Shimada in 1865, we have been only particular about "genuine aroma and flavor" and making high quality and safe tea as a long-established tea maker of tea-growing district, Shizuoka.
There are people who love a grasp of tea leaf and grow it. There are us who select it carefully, polish it up, and bring it up into the best green tea. And there are people who drink the green tea and enjoy fulfilled time with communicating and having a connection with each other. Thus, a cup of green tea is filled with many people's spirit. One drop of green tea is filled with Japanese tradition and a sense of beauty.
Changes in times, people are becoming busier in everyday life. Because it is such times, we think that "a space and the ease" that a cup of green tea brings become important.
We would like to hand down "a heart of green tea" to next generation, tell the Japanese tradition and the sense of beauty to the world. We would like to grow our business by making people happy from the heart.
At this turning point year, our company with all employees has newly commitment to make a best effort. We sincerely ask for your further support, encouragement, and cooperation.
April, 2015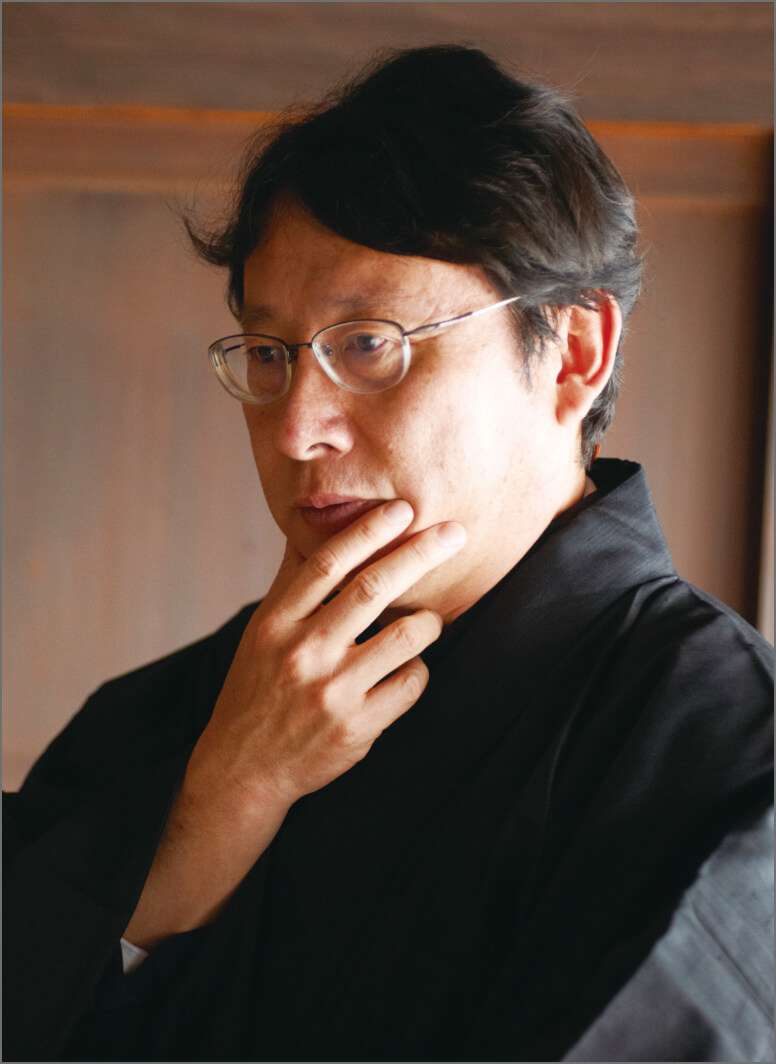 Co. name

Kanei Hitokoto Seicha Inc.
Establishment

1865
Representative Director

Isao Hitokoto
Capital

11 million yen
Business Line

Dried tea leaves processing, Bagging processing, Gift processing, and Sales
Net Sales

800 million yen (for the fiscal year of March 2016)
Number of employees

30
Office Location

【Headquarter】
1-1-9 Doetsu, Shimada, Shizuoka 427-0019,
Japan tel +81-547-37-2196
【Headquarter Plant (manufacturing of finished tea)】
1-1-9 Doetsu, Shimada, Shizuoka 427-0019, Japan
【Higashicho Factory (packaging and distribution center) 】
1408 Higashicho, Shimada, Shizuoka 427-0011, Japan
【Asahicho Cold Storage Warehouse】
3-6796-8 Asahicho, Shimada, Shizuoka 427-0018, Japan
Bank

Shizuoka Bank, Shimizu Bank, Yaizu Shinkin Bank, Shoko Chukin Bank
EC site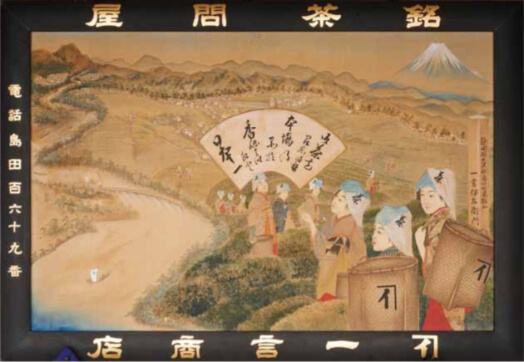 This Japanese painting inherited to Kanei Hitokoto Seicha is created as the third generation, Izaemon Hitokoto requested to painter in Taisho era.
It is told that, in those days, the similar framed Japanese painting (Kanei Hitokoto store signature) was distributed to our specialty stores and it was ruled to display it in their store. The tea plantation of our current contract farmhouse is drawn in right hand side in front of the scenery which sees Ohi River and the town of Shimada from the Makinohara Plate. In the center of the painting, there is a fan with word "Please taste genuine tea". It is a precious reference that tells the prosperity of the tea business in Shimada city at that time and it is also a symbol to inherit the spirit of Kanei Hitokoto Seicha continuously. It is our treasure that we should keep preserving with good care from now on to future.
History
1854

First Founder, Saizaburo Hitokoto was born.
1865

Saizaburo's father passed away young. Saizaburo started business at the young age of 11 years old. This is the establishment of Hitokoto store and while he managed general store, he lent money to local people. He was also a stockholder of Sanjugo Enshu Bank which is now Shizuoka Bank.
1878

Saizaburo's oldest son, Izaemon was born (who entered the tea business in full scale). In these days, tea cultivation became local industry on the Makinohara plate and started to make tea.
1914

Economy rises after victory of Russo-Japanese War and trade with Europe and America increased. Demand for green tea increased as it became popular to foreigner, and we started to export green tea through trading company.
1920

Started business with Yamamotoyama (Nihonbashi)
1922

First founder of Hitokoto store Saizaburo Hitokoto passed away in age of 88 years old.
1925

Started business with Sugaen (Kobe minatogawa jinja).
1934

Grandson of Izaemon, Iichiro was born.
Iichiro is the current chairman.
1953

Iichiro, the current chairman started to sell tea at Hitokoto store with his brother, Shujiro.
1981

Kanei Hitokoto Seicha Inc. was established as a corporation.
1987

Started business with Nihon Nousuisan. (current Ito-Yokado Co., Ltd.)
1993

Built packaging plant and refrigerator that enabled large-scale automatic storing in Shimada city where headquarter locate, and shifted business partner to general merchandising store from these days.
2009

Increased the capital from 10 million yen to 11 million yen.
2011

Isao Hitokoto became the president.
Iichiro Hitokoto became the chairman.
2015

150 years anniversary since starting as Hitokoto store and growing to Kanei Hitokoto Seicha Inc.